Welcome to the Johnson County Green Party!
We are an affiliate of the Iowa Green Party
and the Green Party of the United States.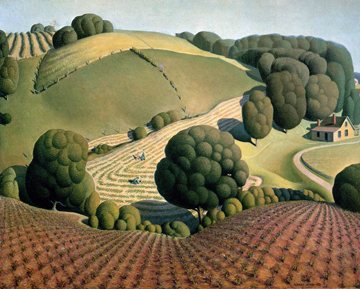 "Young Corn" by Grant Wood
Iowa City Council November 7th, 2017 general election. District B candidate Ryan Hall wins 2,920 (41%) of votes in first attempt. According to the 8 November 2017 Iowa City Press Citizen, Hall stated at an election event held at the Mill,
"When I started this campaign in the beginning weeks of August, I didn't know what to expect," he said, adding that he felt accepted almost immediately by Iowa City and experienced a "breadth of love from this community."
"This has been a truly grassroots, people-powered campaign," he said.
We are committed to:
Environments everywhere
Non-violence
Grassroots democracy and organizing
Economic, social, and environmental justice
Sustainable energy and living
Universal healthcare
Election reform
Fair Trade
Livable wages for all working people
An end to corporate domination of democracy
Cessation of military domination of the national budget and foreign relations.
Of Interest to Greens:
Petition to Ask the University of Iowa to move their money out of banks funding DAPL
Facebook Page
Twitter feeds

See Tweets about #itsinourhands on Twitter. See what people are saying and join the conversation.
More #itsinourhnds. Considering a run for president in 2016. A new society, a new economy

<! Facebook like buttons ----------->

---
Like or Share Johnson County Green Party
---
Like or Share Iowa Green Party
Iowa Green Party
<! Facebook like buttons ----------->