Welcome to the homepage
of the Johnson County Green Party.
We are an affiliate of the Iowa Green Party
and the Green Party of the United States.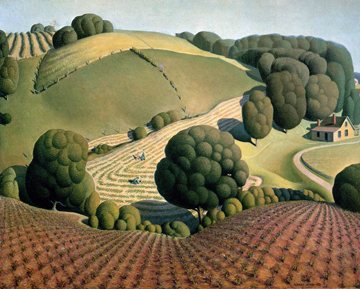 "Young Corn" by Grant Wood
Committed to environmentalism, non-violence, social justice and grassroots organizing, the Green Party and its affiliates seek to speak truth to corporate power about alternative energy, corporate globalization, universal health care, election reform and decent wages for workers.
The Green Party of the United States is recognized by the Federal Elections Commission, and is a partner of the European Federation of Green Parties and the Federation of Green Parties of the Americas.
Please visit www.gp.org to view the national platform. For information about the Iowa Green Party, please see www.greens.org/iowa.
We need your help to elect our dedicated candidates, and to maintain hard-earned access to the ballot itself (which minority parties must win 2% of the votes cast to preserve). To become a member of the Green Party, please visit the Johnson County Registrar's site at http://www.sos.state.ia.us/pdfs/elections/voteapp.pdf, fill out the voter rgistration form and check "Iowa Green Party" where it asks for party preference. You can also find voter registration forms at your country auditor or public library. To receive announcements for Johnson County Green meetings and events, and to vote on local Green Party issues, please send an e-letter to our secretary (and 2002 candidate for lieutenant governor) Holly Hart, at hhart11@gmail.com.
We meet each month at a local coffee house or the library. We hope to see you at one of our meetings, and above all, we hope that you will VOTE GREEN in future elections.

Movie, "The Green Party in Iowa City," with Jay Robinson and Ralph Nader, copyright William Fuhr, 2002. The 15 MB video is available now.