Welcome to the Johnson County Green Party!
We are an affiliate of the Iowa Green Party
and the Green Party of the United States.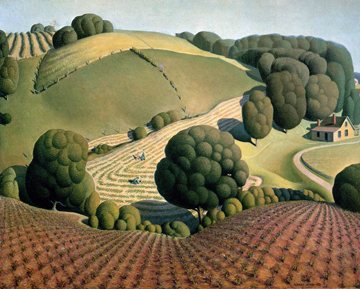 "Young Corn" by Grant Wood
We are committed to:
Environments everywhere
Non-violence
Grassroots democracy and organizing
Economic, social, and environmental justice
Sustainable energy and living
Universal healthcare
Election reform
Fair Trade
Livable wages for all working people
An end to corporate domination of democracy
Cessation of military domination of the national budget and foreign relations.
Announcements:
July 23-26, 2015 Green Party US Annual Convention, St. Louis, Missouri. $90 for the first 50 who register before April 15th! See www.gp.org.
Of Interest to Greens:
Symposium: The Politics of Immigration. Friday 24 April, 2015, Old Brick Church and Community Center, Iowa City, Iowa 52240, 7:45 a. m. -4:15 p. m. Sponsored by the University of Iowa Public Policy Center.
Symposium: GOVERNING UNDER THE INFLUENCE. Saturday 23 May, 2015, 9:30 a. m.-3:00 p. m., Iowa City Public Library, 123 South Linn Street, Iowa City, Iowa 52240
Sponsored by Eastern Iowa Move to Amend and American Friends Service Committee, Des Moines. Issues addressed will include "The School to Prison Pipeline," "Fee and Dividend and the CCL Methodology," "Physicians for a National Health Plan," "The NEED Act," and "The Struggle for Shorter Work Hours." Speakers will include Diana Henry, Mark Neucollins, Jess Fiedorowicz, Greg Coleridge, and Benjamin Hunnicutt.
Watch this site for information about our "Liveability Series," and/or write hhart11@gmail.com for more information.

<! Facebook like buttons ----------->
---
Like or Share Johnson County Green Party
---
Like or Share Iowa Green Party
Iowa Green Party
<! Facebook like buttons ----------->