Welcome to the homepage
of the Johnson County Green Party.
We are an affiliate of the Iowa Green Party
and the Green Party of the United States.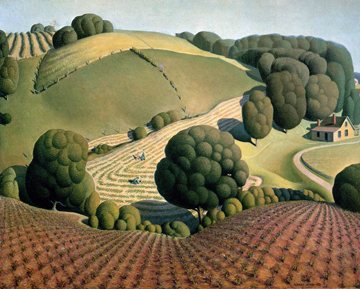 "Young Corn" by Grant Wood
Committed to environmentalism, non-violence, social justice and grassroots organizing, the Green Party and its affiliates seek to speak truth to corporate power about alternative energy, corporate globalization, universal health care, election reform and decent wages for workers.
The Green Party of the United States is recognized by the Federal Elections Commission, and is a partner of the European Federation of Green Parties and the Federation of Green Parties of the Americas.
Announcements:
"The Next American Revolution," a new film by Gary Alperovitz and Keane Bhattm will be shown this Sunday, November 10, at 1:30 p.m. in Room A of the Iowa City Library.