Welcome to the Johnson County Green Party!
We are an affiliate of the Iowa Green Party
and the Green Party of the United States.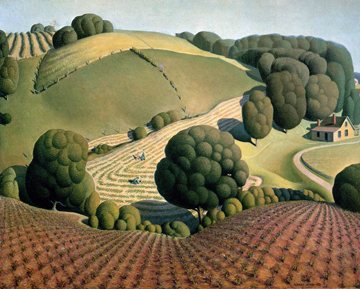 "Young Corn" by Grant Wood
We are committed to:
Environments everywhere
Non-violence
Grassroots democracy and organizing
Economic, social, and environmental justice
Sustainable energy and living
Universal healthcare
Election reform
Fair Trade
Livable wages for all working people
An end to corporate domination of democracy
Cessation of military domination of the national budget and foreign relations.
Announcements:
Spring Film and Discussion Series: LIVABILITY
A 3-film series with discussion around the topic: What can we do to make Johnson County more livable?
Iowa City Public Library; check here for titles and times:
Sunday, 30 March 2014
Sunday 20 April 2014
Sunday 18 May 2014
One of the films will be "The Next American Revolution," by Gary Alperovitz and Keane Bhatt.
Of Interest to Greens:
DAVID COBB VISIT: FORMER GREEN PARTY PRESIDENTIAL CANDIDATE COMES TO IOWA CITY 17 APRIL 2014!
100 Grannies Film Series, 202 Senior Center, 6-7 p. m., 24 February: "Saving the Planet: Changing to Non-Carbon Energy Sources." Michael Garvin, RENAIS (Renewable Energy Network of Aggregated and Integrating Systems)
100 Grannies Film Series, location and time as above, 3 March: "A Call to Climate Action--America's New Purpose," Senator Rob Hogg
Battlefield Earth: Violent Conflict/Global Health, 28-30 March 2014. Sponsored by the University of Iowa Global Health Studies Program. For more information, contact http://clas.uiowa.edu/global-health-studies/events-resources